"Mar Brees"
Miniature Pinschers

These dogs are all family friendly & have outstanding personalities!!!
You'll see the difference, You can purchase your puppy at Mar Brees with complete confidence...
We will take care your baby like it's ours till we can get him or her safely in your arms. Puppies raised with daily handling, love & country fresh air. Min Pins make ultimate Lap Dogs!!!
My puppies have made so many positive impacts to my customers lives. To see the smiles on the new families faces is certainly rewarding to me. When you're ready to add a new puppy to your family, don't hesitate to give me a call or drop me an e-mail. My goal is for you to receive a happy, healthy puppy!
Many of my puppies make wonderful Therapy Dogs!
***For referrals*** click "References" on the side bar.





A note from Marj...
We operated our 250 unit sow operation for 10 yrs. Farrow to feeder pig. I managed the farrowing house & nursery, We also foal out about a dozen mares & foals each year. The experience & knowledge I've gained has carried right over to my puppies. I do a lot of the care my self, but when needed I do not hesitate to call on my vet. I have a good relationship with them, and they are always eager to help out when needed. My puppies receive a lot of attention & care, I feel I have developed a passion for these little creatures. I adore my puppies & hope all the new owners of my puppies will too.

I have an excellent selection of different types of min pins.
I put a lot of thought into every mating,
I select the male & female to compliment each other.
I offer the Micro Min Pins ( for those who like the smaller type.)
I have the champion lines (for those looking for show & breeding prospects)
I have the standard ( for those looking for sturdy Therapy dogs.)
And I have the blues & fawns ( for those looking for the rare color)
I offer black & rust, reds, chocolates, fawns ,tans & blues.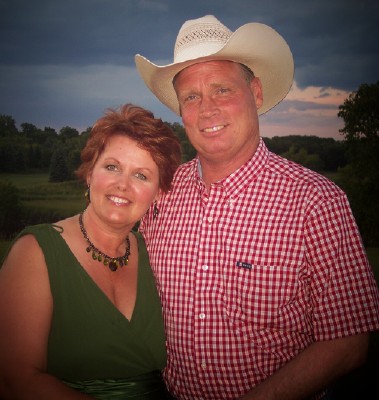 Marj & Brian Kruger June 2008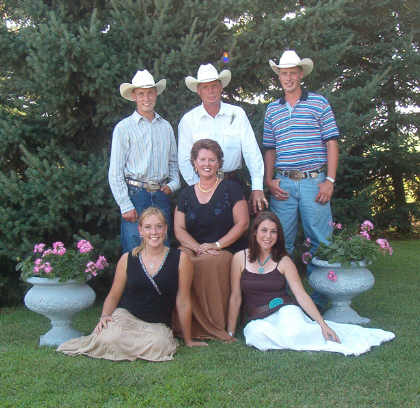 Our Family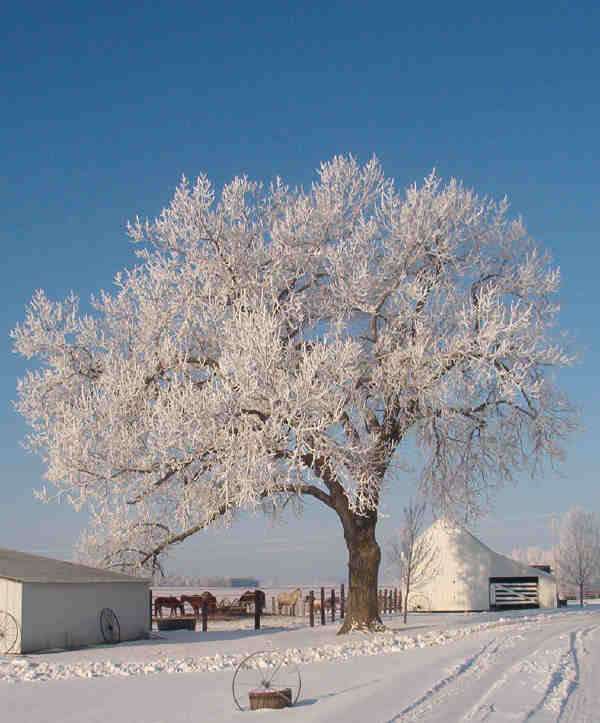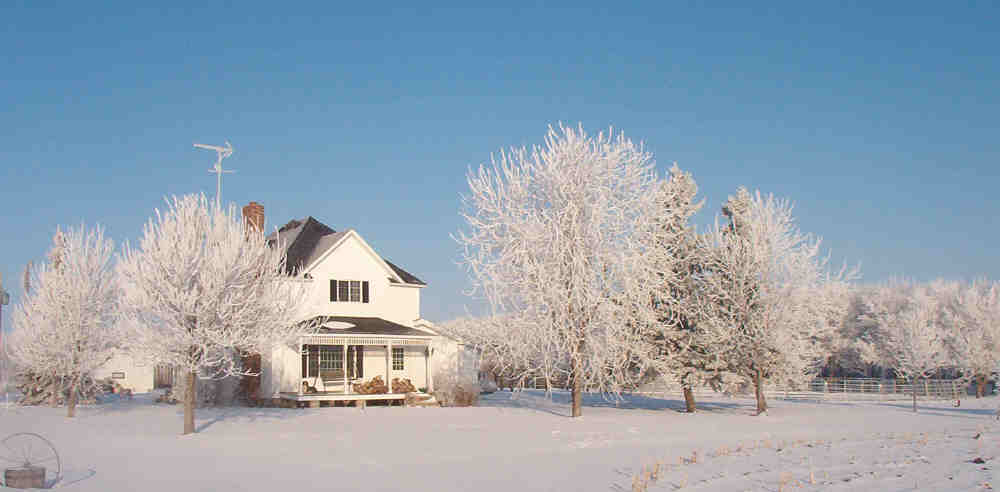 Our Home ( Mar Brees In The Winter)
I could not resist snapping this picture one morning in Feb. 2005
when I was leaving to go to the airport, with some precious cargo.. ( puppies)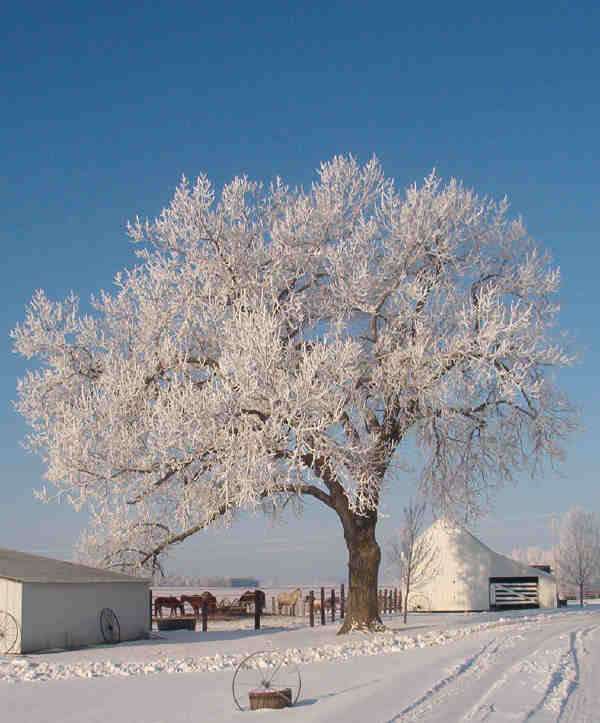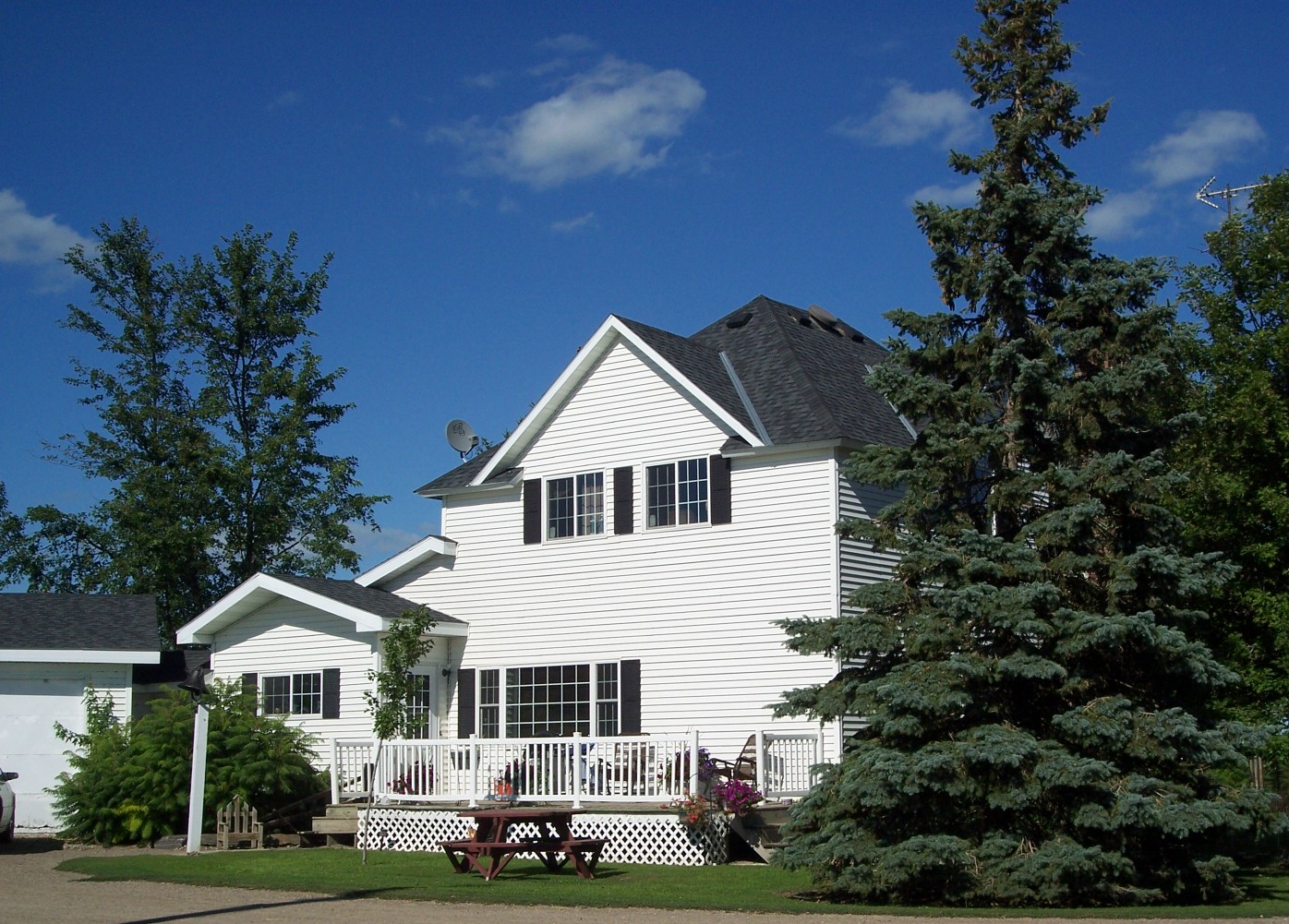 Mar Brees In The Summer 2008
********************************************************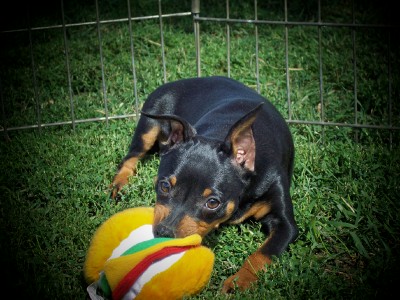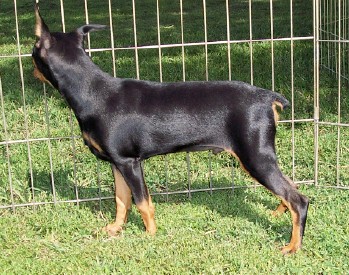 Look at the glossy coat you get feeding this puppy food.
This is "Striker" he is a son of Foggy & Riley. He is 5 months old in this picture.




My niece Hattie with her Mar Brees Min Pin "Aqua" As you can see Aqua is a big part of Hattie's life. From Graduation to Prom even a life size photo of them on a blanket.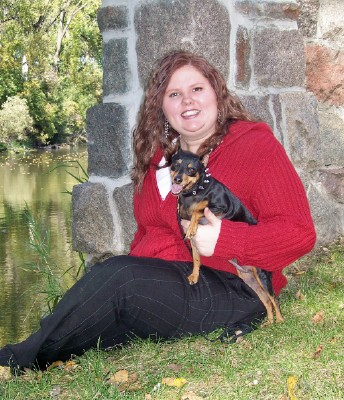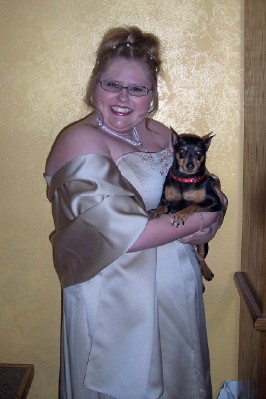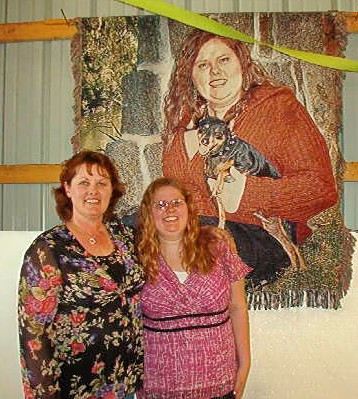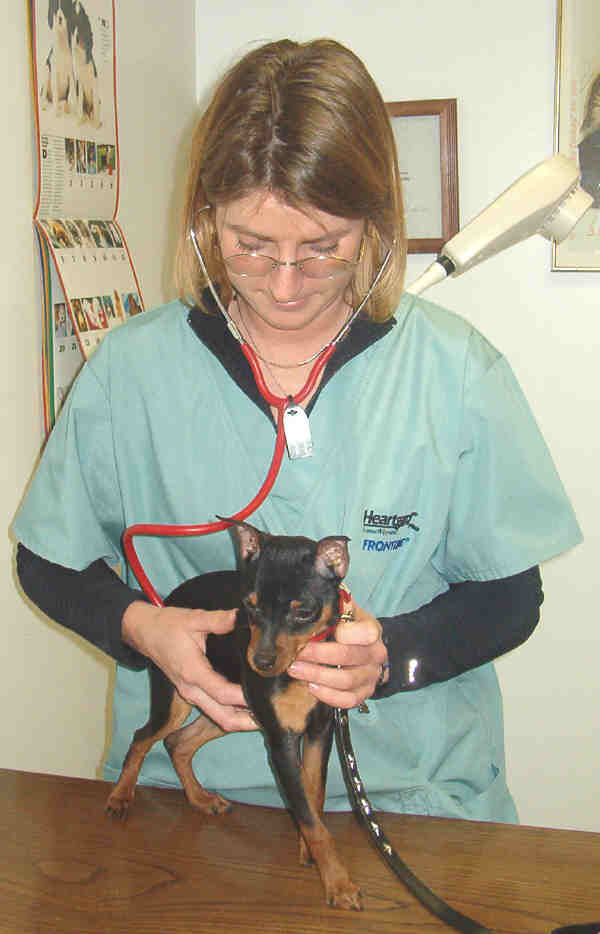 Digger in for his vet exam prior to meeting his new family.
Dr. Westagaurd always gives my puppies an excellent exam .She is very thrall & does a great job!! My puppies are lucky to have her as their vet. As well as I !!!!




Many family pets pictured below.
Enjoy looking as they are "Just a Dog"

Baby Bella @ 7 months old
Angel X Rusty
Bella enjoying her new 2006 Christmas outfits,
Her pink PJ's were picked out by her Da da Ross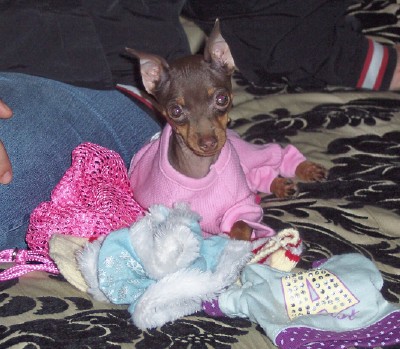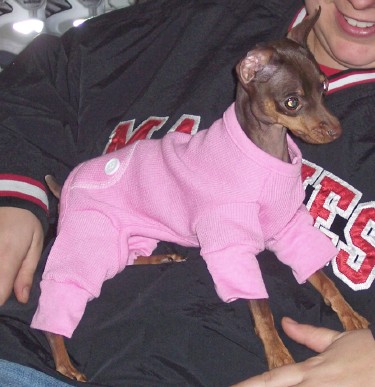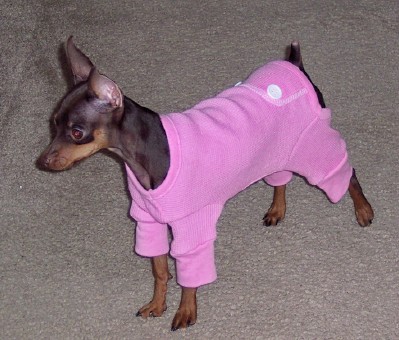 ******************************************

It's Just a Dog
Anonymous

From time to time, people tell me, "Lighten up, it's just a dog," or,
"That's a lot of money for "just a dog". They don't understand the
distance traveled, the time spent, or the costs involved for "just a dog".

Some of my proudest moments have come about with "just a dog".

Many hours have passed and my only company was "just a dog",
but I did not once feel slighted.

Some of my saddest moments have been brought about by "just a dog",
and, in those days of darkness, the gentle touch of "just a dog"
gave me comfort and reason to overcome the day.

If you too, think it's "just a dog", then you will probably understand phrases
like "just a friend", "just a sunrise", or, "just a promise".

"Just a dog" brings my life the very essence of friendship, trust, forgiveness,
and pure unbridled joy.

"Just a dog" brings out the compassion and patience that makes me a better
person.

Because of "just a dog" I will rise early, take long walks and look
longingly to the future.

So for me, and folks like me, it's not "just a dog" but an embodiment
of all the hopes and dreams of the future, the fond memories of the
past and the pure joy of the moment.

"Just a dog" brings out what's good in me and diverts my thoughts
away from myself and the worries of the day.

I hope that someday they can understand that it's not "just a dog" but
the thing that gives me humanity and keeps me from being "just a human".

So the next time you hear the phrase "just a dog", just smile...
Because they "just don't understand".
******************************************************************
Hattie thrilled with her 2006 Christmas present from Aunt Marj' Hattie got her very own portrait of "Salsa" a Mar Brees breeding male. Hattie spent many summers here & Salsa has always been her favorite dog.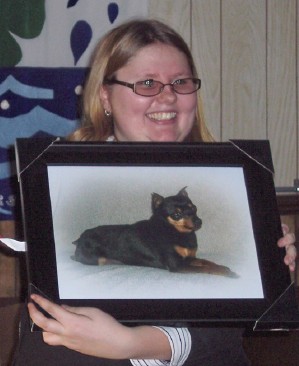 *****************************************
"Grandma Josie" Josie is 12 years old
She enjoys her new snuggle bed.. this is where you'll find her most of the time. She was our 1st. Min Pin ,she certainly is the boss of our house and is "The Queen" !!! If you don't believe me just ask her!!! She still enjoys play time with the young ones, but will find a warm place to snuggle if she notices a cozy place to lay.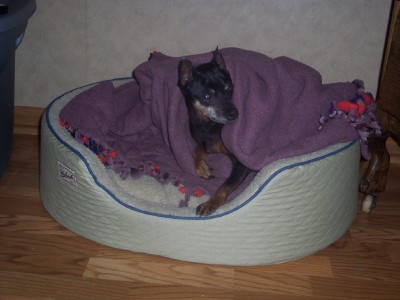 Angel & Aqua sneaking in a nap on Cassies lap!!
Both girls were raised here at Mar Brees...
We try to raise the snuggly calm type of Min Pins. Aqua & Angel only get to be together a few times a year, But always remember each other, they share their crate at night & never miss a chance to snuggle together. They played as puppies and seen to remember each other at first glance!!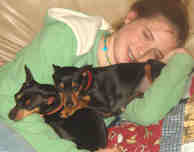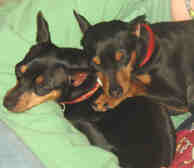 Angel sporting in her new purple jump suit.
( Mom always thinks of me, when she finds something snuggly for me) Angel LOVES cloths!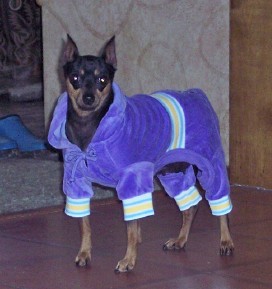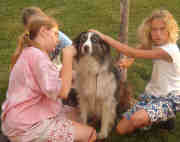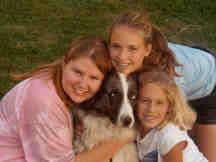 "Burr"
( Our loyal Farm dog)
Burr having a day at the groomers..( He's thrilled???)
Pictured with Hattie, Cassie & Brook.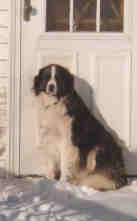 "Burr" no matter how cold... he always keeps a close guard on his family in the house.
-50* below windshield this morning. Tuff isn't he !!!!!!!!!!!!!!!


Jolenes Angel & Mar Brees Pearl
This is an every night event in our house, Play - Rest - Play and Finally a winner!!!!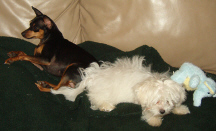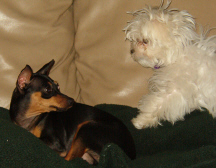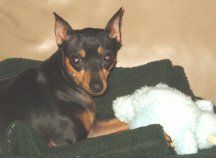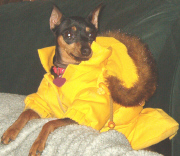 Angel & Pearl ( Angel in her new Parka!!! she loves it!!!)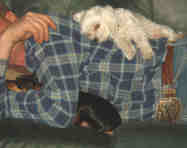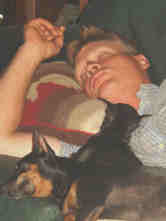 Brian catching a snooze!! Of course he's got a few sleeping buddies!!!

News Flash!!!
"Mar Brees Tomerae" Nat'l Champion @ 3 months.
May 24 & 25th 2003 Int'l Dog Show in MN.
** Best of Class ** Best of Breed ** Best of Group ** Best Bred By.
She received her Nat'l Championship Title!! And 7 Medals.
Bred & Raised here @ Marbrees.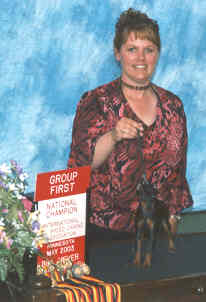 NEWS FLASH!!!!!!
"Mawells Rusty Spark"
First show, 1st. both days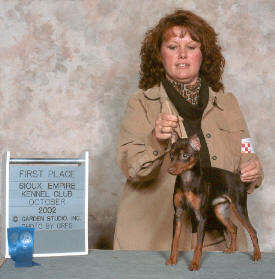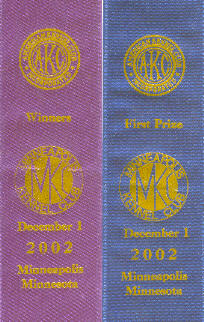 Second show in Minneapolis, MN. Received Purple & Blue!!!!!!
Way to go Rusty!!!!!!!!!




Jolene's Angel 14 months old weighing 4 Lbs. She is our little baby that goes every where we go.
She's been to Wal-Mart, Horse shows, Nursing homes, Baseball games, Horse sales, and never misses the monthly visit to my Grandparents in SD to visit their dog "Brownie". She enjoys chasing the Killdeer Birds, They fake a broken wing to leer her away from their babies, And she can get quite far from home, So for her safety she'll be tied when we can't watch her every minute. The birds should be done with their young ones soon. Angel was & raised here @ Mar Brees.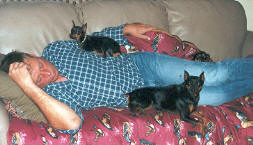 This is where you will find our Min Pins at the end of a busy day!!!
The first person to relax, has a lap full of Min Pins in our house!!
Little "Angel" (top) "Josie" (front) "Brandi (behind knees)



NEWS UPDATE!!!!!
"JOLENE'S ANGEL" AKC Min Pin home raised here @ our farm.

"GRAND CHAMPION"
@ Chippewa County Fair, Aug.13, 2002
Pictured above 4 month old "Angel"


'Our House Dogs'

This is a picture of the first Min Pin we were blessed with. "Josie"
This is what we look for in our breeding dogs.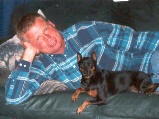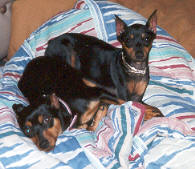 "Best Buddies" ~~~ Brandi & Angel



Here is my new Jr. Stud dog "Home raised" here @ our farm. He'll be siring some of my spring litters. D.O.B April 10, 2002
Maxwell's Rusty Spark!! AKC # TR015289/01
Rusty will start handling classes in Oct. Look for him in the show ring!
NOT FOR SALE.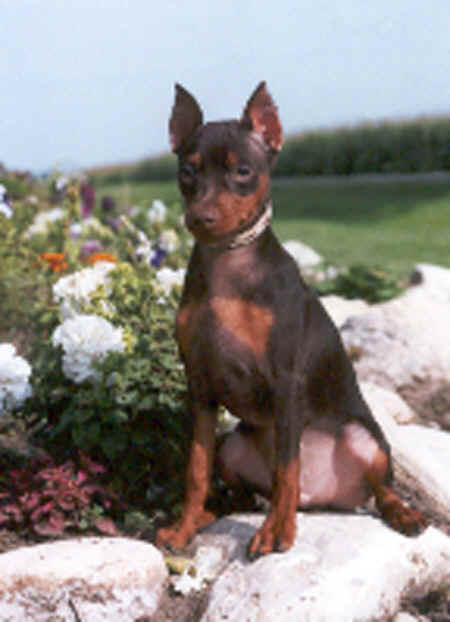 Rusty took 1st in his class both days @ his first show!!!!
Oct. 26th & 27th, 2002